Data center containment strategies are now widely regarded as the starting point for energy efficiency best practice in the server room. Each unique server room will require a unique Aisle Containment solution. Some environments will benefit more from hot aisle containment, while others may be limited to cold aisle containment due to physical constraints.
Hot and Cold Aisle Containment Systems
Hot and Cold Aisle Containment Systems is an effective airflow management tool for implementing containment strategies in the Datacenters and Server Rooms.
Hot –Cold aisle containment is the practice of sealing a data center's hot aisle and/or cold aisle to better control airflow and prevent the mixing of hot and cold air. Such mixing wastes cooling energy.
Both hot and cold air containment can significantly improve the efficiency of data center cooling systems. While both approaches eliminate the mixing of hot and cold air, there are practical differences in implementation that have significant consequences.
Data center hot-aisle cold-aisle containment can better control where hot and cold air goes so that a data center's cooling system runs more efficiently. But there are several considerations and various questions that data center managers should ask themselves:
The goal of hot aisle containment is to capture the hot exhaust from IT equipment and direct it to the CRAC or CRAH units as quickly as possible. Mainly two types of systems achieve containment: the "room"or the "chimney". Similar to cold aisle containment, the "room" method seeks to separate the hot aisle with barriers made from curtains, or metal enclosures. The "chimney" method uses special server racks with chimneys to direct hot exhaust into the return air system or overhead plenum. Hot aisle containment is an excellent option for new data center builds and those with existing hot air return ducts or over-ceiling plenum space.  
Cold aisle containment attempts to isolate the cold air in a "room" of its own. By using containment curtains, metal, or other similar barrier, the cooling air is concentrated at the equipment intake. The cold air must pass through the server racks, cooling the equipment, before entering the rest of the room. The focus of cold aisle containment is to cool the IT equipment, not the whole room, with targeted cooling at the equipment inlet. Cold Aisle containment can be a cost effective approach for older data centers with open-room hot air return schemes. Be sure to consider the cooling needs of non-contained IT equipment and airflow dynamics of the raised floor system. As with hot-aisle containment, be sure to consult local fire and building codes to determine proper fire suppression needs to avoid costly fines and voiding of insurance policies.
Lightweight Panels and Curtains
Containment Systems are highly effective air isolation solutions for controlling airflow in the data center. The systems are comprised of soft-wall curtains and rigid panels. Containment Curtains are a highly effective air isolation solution for controlling airflow in the data center. Made of high grade vinyl and installed with trouble-free mounting system, Containment Curtains eliminate hot spots and overcooled zones, saving energy while improving equipment reliability. Containment Curtains accommodate any data center configuration, are easy to install, and flexible to redeploy.
Aisle Containment Curtains offer many benefits: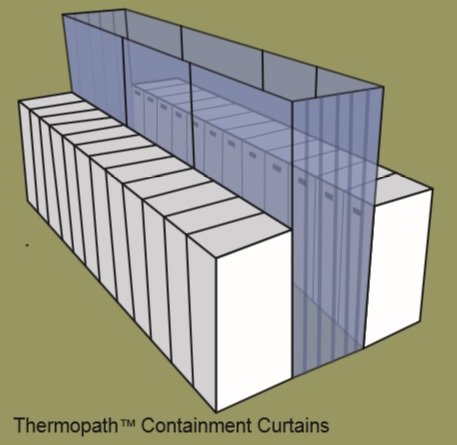 Containment Panels are an attractive containment solution for isolating above and around the racks. They are typically deployed vertically to create an attractive, modular containment barrier. Made of anodized aluminum framing and fire-safe inserts Containment Panels are lightweight, cost effective and attractive looking. Panels are supported with a tight fitting bracket so that they can be either secured to the rack tops or to the floor. A movable, self standing panel is available in custom heights and widths. Standard panels are also available as containment stalls used to isolate racks. For use below sprinkler heads Drop-Away Panels solve the "sprinkler head obstruction" problem associated with deploying containment. This unique hot and cold Aisle Containment Solution is deployed horizontally across the aisles to create a tight containment barrier. The panels are made of an aluminum frame with a special translucent insert. Panel inserts are heat sensitive and promptly move out of their setting in high heat. They are designed for use underneath lighting and fire suppression systems and are engineered to drop out of a panel frame in the event of a fire.
Solutions for All Ceiling Types Curtains and panels can be deployed in a variety of ceiling types.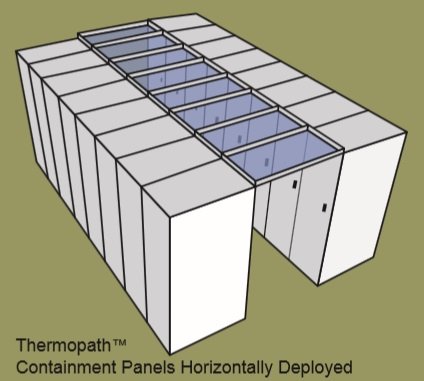 Available as sliding or hinged doors. A choice of window panels in clear, tinted, frosted or soild 6mm toughened glass. Hinged doors are available in double and single door configurations with custom left and right door sizes. The toughened glass doors provide the ability to install common access control systems and are fitted with auto closers on both swing and sliding models.